RCA Dome Fun Facts: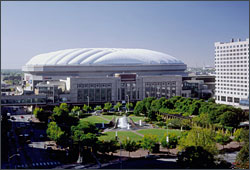 • Ground Breaking Ceremony May 27, 1982
• Roof Inflated August 19, 1983
• Grand Opening May 3, 1984
• Total Stadium Building Area 7.25 Acres
• Roof Surface Area 8 Acres
• Roof Height 193 Feet (19 Stories)
• Roof Weight 257 Tons
(514,505 lbs.)
• Roof Panels (81) - Teflon-coated fiberglass
outside and canvas-like material inside
• Roof Cables 16 Total Length: 2 miles
(10,552 ft.)
• Concrete Blocks 484,360
• Electrical Wiring 371.5 miles (1,961,917 ft.)
• Roof Support 20 Fans 100 hp each
• Stadium Floor 95,000 sq. ft.
• Permanent Seating 57,890
• Artificial Playing Surface FieldTurf
• 104 Luxury Suites
Turf Facts
In May 2005, FieldTurf installed a new permanent turf surface, replacing the Astro-Turf 12 that was used for 8 football seasons. This new product, replicating a natural grass surface, offers both the durability and cost benefits of synthetic fields. The patented silica sand and cryogenic rubber infill system is the biggest technical development that the sport surfacing industry has seen in the last twenty-five years. This exclusive infill provides superior safety, grass-like stability and better long-term resilience. Much preferred by players, the surface is softer and less abrasive than its predecessor; it is the surface of choice for five of the six domes in the National Football League. The Indianapolis Colts have also used FieldTurf in their Union Federal Football Center indoor practice facility since the 2003 season.