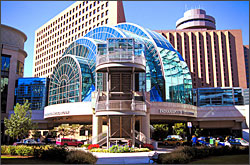 Indianapolis offers a diverse variety of attractions for visitors of all ages. For complete details on any of the ones listed, please call 1-(800)-323-INDY or visit www.indy.org.
Central Canal
Most of the 10 l/2 block area has been transformed into a garden-like oasis with lush landscaping, fountains, street lamps, walkways, a pedestrian bridge, jogging paths and murals depicting scenes of life in Indiana. Pedal boats are available during warm weather months.

The Children's Museum of Indianapolis
The Children's Museum of Indianapolis is a non-profit institution committed to creating extraordinary learning experiences that have the power to transform the lives of children and families. The 454,532 square-foot facility houses 12 major galleries. Visitors can explore the physical and natural sciences, history, world cultures, the arts and see how dinosaurs lived 65 million years ago in Dinosphere: Now You're in Their World. The Children's Museum, situated on 13 acres of land in Indianapolis presents thousands of programs and activities each year. For more information about the Children's Museum in English and Spanish, visit www.childrensmuseum.org.

Circle Centre
Love shopping? Then Circle Centre is for you! This fashionable centre, designed for the ultimate shopper, offers exceptional eateries and delightful diversions. Come explore 2 full city blocks and 4 exciting levels that feature more than 100 shopping, dining and entertainment options. For more information visit: www.circle-centre.com.
Hilbert Circle Theatre
Built in 1916, the Hilbert Circle Theatre was prominent as the Midwest's best-known performance house for traveling entertainers, silent movies, world premiere features, classical concerts and talking motion pictures. It is now the home of the internationally acclaimed Indianapolis Symphony Orchestra.
www.indianapolissymphony.org/hilbert

Conner Prairie
In a review of seven living-history museums including Colonial Williamsburg, Conner Prairie was the only museum which received U. S. News & World Report's highest rating in both authenticity and entertainment. Visitors experience many authentic frontier activities, including a camp meeting, a wedding celebration and the process of preserving a hog-from butcherin' to stuffin' to smokin'.
www.connerprairie.org

Conseco Fieldhouse
The retro-styled, state-of-the-art facility stands as a monument to Indiana's rich basketball tradition. The fieldhouse is home to the NBA's Indiana Pacers, the WNBA's Indiana Fever, as well as being a venue for hockey, concerts and shows.
www.consecofieldhouse.com

Eiteljorg Museum of American Indians and Western Art
The Eiteljorg Museum is unique, one of two museums east of the Mississippi with both Native American and Western art. Located in downtown Indianapolis, the museum is within walking distance of the Indiana Convention Center & RCA Dome. The American Western Gallery includes works from the Taos, N. M., Artists' Colony as well as pieces from such legends as Remington and Russell. Contemporary artists who tell the story of today's West are also represented and the Native American collection includes pottery, basketry, sculpture and other artifacts from all 10 North American native cultural areas. www.eiteljorg.org.

IMAX Theatre
Experience a movie like never before. Whether you are watching a 3D or 2D movie, the six-story screen and digital sound system make you feel like you're in the movies.
www.imax.com/indy

Indiana Historical Society
Established in 1830, the Indiana Historical Society is an independent, non-profit organization that serves to collect, preserve and interpret Indiana history. These Indiana treasures are housed in the four-story, state-of-the-art facility, which is located along the historic Central Canal.
www.indianahistory.org

Indiana Statehouse
Completed in 1888 and built of Indiana limestone, this Renaissance Revival-style structure has been the center of Indiana government for more than 100 years. Focal points are the stained-glass rotunda, Supreme Court, House and Senate chambers and the governor's office.
www.in.gov/statehouse

Indiana State Museum
This world class institution is a showplace for Indiana's cultural and natural history. The museum complex, located in White River State Park, lets visitors explore Indiana's past, present and future through exhibits related to the state's arts, culture and natural history.
www.in.gov/ism

Indianapolis Motor Speedway
To test and showcase automobiles, entrepreneur Carl Graham Fisher formed the Indianapolis Motor Speedway. Completed in 1909, the 2 ½-mile oval began to host automobile and motorcycle races. On May 30, 1911, the Speedway hosted the first Indianapolis 500-Mile Race. It is also the home for the Allstate NASCAR Brickyard 400 and the Formula-One United States Grand Prix racing events.

Hall of Fame Museum
Approximately 75 cars are always on display, representing a widely diversified collection of early day passenger cars, European sports cars, motorcycles and other special interest vehicles, plus more than one third of all the Indy 500 winners, including the 1911 winning Marmon "Wasp."
www.indianapolismotorspeedway.com/museum/

Brickyard Crossing Golf Course
Designed by Pete Dye, Brickyard Crossing is an 18-hole championship golf course that can host major PGA or USGA events. "The Nation's Most Unique Links" Brickyard Crossing promises a golf experience unlike any other.
www.brickyardcrossing.com

IMA
The Indianapolis Museum of Art is among the largest and oldest general art museums in the United States. Founded in 1883, the Museum now boasts a permanent collection of more than 50,000 works of art that span the range and scope of art history. In addition to housing its world-class art collections, the Museum is also a premier showcase for national and international exhibitions.
For more than 120 years the Museum has served the community through its collections and programs. Most recently it has completed a building project that improved visitor access and amenities and created new gallery space for display of the Museum's collections. www.ima-art.org.

Indianapolis Raceway Park
IRP is perhaps the world's finest special event auto racing facility. They host more than 100 dates of racing on the quarter-mile drag-strip, .686-mile paved oval and 2.4 mile road course. Hosts for the NHRA U.S. Nationals, NASCAR Busch Series, Goodguys Hot Rod Nationals and many others.
www.irponline.com

Indianapolis Zoo and White River Gardens
Located in White River State Park downtown, the Indianapolis Zoo proudly celebrated its 40th anniversary in 2004. Since opening in 1964, it has grown into a world-class facility hosting a million visitors each year and playing a major role in worldwide conservation and research, including accomplishing the world's first successful artificial insemination of an African elephant. Visit the "cageless" zoo featuring nearly 4,000 animals in simulated natural habitat, 1,900 species of plants and the world's second largest fully enclosed environmentally controlled dolphin pavilion. The Indianapolis Zoo is the only attraction accredited by the American Association of Museums as a zoo, an aquarium and a botanic garden. White River Gardens, the stunningly beautiful 3.3 acre botanical attraction, combines the best of gardening ideas and plant information. www.indyzoo.com.

Madame Walker Theatre Center
Listed as a National Historic Landmark, the Madame Walker Theatre Center four-story building stands as a memorial to Madame C. J. Walker, America's first female self-made millionaire. She made her fortune by manufacturing hair care products for African-Americans. Erected and embellished with African and Egyptian motifs, the theater where Louis Armstrong and Lena Horne once played is now used for plays, concerts and entertainment.
www.madamecjwalker.com

Medal of Honor Memorial
The memorial honors 3,433 Medal of Honor recipients, which is awarded by Congress for military valor. The memorial represents 15 different conflicts and is composed of 27 curved walls of glass. Each day at dusk, the memorial's sound system plays recorded stories of medal winners or of the conflicts in which they fought.

NCAA Hall of Champions
From the first track and field championship in 1921, to the flavor, pageantry and tradition of today's NCAA (National Collegiate Athletic Association) national championships in 22 sports, the NCAA Hall of Champions celebrates the journey of the student-athlete. Two levels of exhibits feature interactive displays and multimedia presentations to discover what it means to become a champion from a student-athlete's first competition to a lifetime achievement.
www.ncaa.org/hall_of_champions

National Art Museum of Sport
The National Art Museum of Sport is the nation's largest collection of sport art with more than 1,000 paintings, prints, sculptures and photographs of 44 sports including ice yachting, bowling, auto racing, tennis, football, basketball, baseball, hunting, squash and archery.
www.namos.iupui.edu

National Institute for Fitness and Sport
This 65,000 square foot state-of-the art fitness and research center is open to professional and amateur athletes along with the public.
www.nifs.org/

Soldiers' & Sailors' Monument
Located at the center of Indianapolis on Monument Circle, this 284-foot limestone monument was dedicated in 1902 and stands as a tribute to the valor of Indiana's soldiers and sailors who served in the Civil and Spanish American Wars. An observation tower provides a panoramic view of the skyline.
www.in.gov/iwm/civilwar/

Victory Field
Voted the Best Minor League Baseball Park in America, Victory Field serves as the home to the AAA Indianapolis Indians, who are affiliated with the Pittsburg Pirates. The park is a beautiful downtown setting for a baseball game during the April - September baseball season.
www.indyindians.com

War Memorial Plaza
The mausoleum-style limestone and marble memorial pays homage to Hoosiers killed during World Wars I and II, the Korean War and the Vietnam War. A military museum in the basement allows visitors to follow the history of Indiana soldiers from the Battle of Tippecanoe through the most recent wars.
www.in.gov/iwm/historical