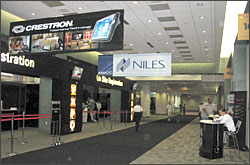 Since 1975, Do it Best Corp. has held our bi-annual trade markets at the Indiana Convention Center. We have found the staff to be courteous, friendly, efficient, and extremely professional in anticipating and responding to our needs. It's nice to be able to count on having just what we need for a successful market at this facility, so close to our home base in Fort Wayne.
-Bob Taylor
President and CEO
Do it Best Corp.

We have enjoyed 30 years of wonderful memories at the Indiana Convention Center. Thanks to all the hardworking people who make our annual event possible!
We look forward to continuing our relationship into the future!
-Lynda Odom
Praise Gathering for Believers

Indianapolis has been our most successful convention location for the past ten years. Our exhibitors and attendees alike enjoy the close proximity of the convention center to hotels and to restaurants and shopping. Couple that with great service and reasonable costs and Indianapolis is tough to beat as a convention destination. Indy makes it so easy to come back again and again!
-Anne Goyer
Goyer Management

Having worked with you for years, we know how competent, cooperative and thorough your team is. Over the years you have managed to satisfy our needs by providing clean, modern, up to date facilities and highly qualified, experienced staff. It is reassuring to know that we can count on working with the same people we have had the privilege of working with year in and year out. In all sincerity, of all the facilities we have worked with over the years, you are the best.
-Debbie Locklear
Meeting Services Unlimited

For the 35,000 – 40,000 world-wide attendees of the ten-day General Assembly of the Church of the Nazarene, the Indiana Convention Center & RCA Dome have no industry rival for convenience, staff and workability.
-Dr. Jack Stone
Church of the Nazarene

Indiana Black Expo, Inc. has held 34 consecutive years of its signature fundraiser at the Indiana Convention Center & RCA Dome. Over the years, we have become very acquainted with the staff which has developed into a friendship type of relationship. The Convention Center staff is like an extended family who is very familiar with IBE's needs and will go the extra mile to ensure customer satisfaction. IBE looks forward to a long-lasting relationship with ICCRD.
-Marcia Bennett
Indiana Black Expo

On behalf of the International Brotherhood of Electrical Workers Local #481, I would like to thank you and your staff for helping to make our annual Dinner Dance in the Sagamore Ballroom a great success again this year. Every detail from the ballroom set-up to the catering by Centerplate was first class.
What a delight it was for me to work with such an accommodating crew. I had several of our members compliment the wonderful meal and your attentive wait staff on the evening of our event.
I look forward to future dinner dances and our other functions held at your facility.
-Robert Cadwell
IBEW, Local #481

Our organization produces conferences and trade shows around the globe and I can honestly say that the support and professional guidance we receive from the Indiana Convention Center & RCA Dome staff is superior to any other venue where we produce an event. From catering to engineering the people at the Indiana Convention Center & RCA Dome truly personify customer service and "Hoosier Hospitality."

-Don Gilpin
Assistant Executive Director
Custom Electronic Design & Installation Association - CEDIA

The ICCRD is a facility to be extremely proud of and your staff continues to exceed all of our expectations. Our continued relationship with Indianapolis and the ICCRD is a testimonial to the hard work, friendliness and professionalism of your staff. We look forward to returning to the ICCRD in 2006 and on.
PennWell Corporation
FDIC

"The RCA Dome has been host venue for the Circle City Classic since its inception in 1984. The venue is perfect for our event and it has been extremely well maintained over the years. More importantly, the RCA Dome and Indiana Convention Center staff provides outstanding guidance, service, and support for our event making it possible for our organization to stage one of America's finest, college football events."
-Tony Mason
Circle City Classic