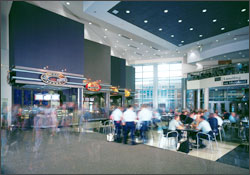 Centerplate offers a variety of food outlets that range from Espresso Caffé ™ with freshly brewed coffee to the American Deli with made-to-order deli sandwiches. We offer upscale food selection as a convenient alternative to the restaurants and cafe's in the area. We believe the Indiana Convention Center & RCA Dome clientele will experience wonderful amenities, wonderful food, and Hoosier hospitality without ever leaving the facility.

The Landing on Maryland Food Court (servicing Halls A - C): features four themed concepts: Espresso Caffé ™, Indiana Grille ™, Pizza Villa ™ and American Deli ™. This variety, along with a seating area, gives attendees a great place to enjoy lunch, visit with others or to just sit and relax.

The Crossroads Bistro located across from Exhibit Halls D & E: offers a variety of items from which to choose: Soups and Sandwiches, along with a daily lunch special prepared by our talented culinary staff. Adjacent to the Crossroads Bistro is the Espresso Caffé ™ and Pizza Express ™ with ample seating.

The refreshment stands in Exhibit Halls A - D: attendees can enjoy a refreshment in one of the five concession stands without leaving the exhibit floor. The menus vary with select offerings of White River BBQ, Indiana Grille ™ for burgers & fries, jumbo hot dogs, Italian sub sandwiches, and salads.

The Portable Carts program allows Centerplate to place additional food service in strategic locations throughout the building. The portable carts are able to serve a wide variety of themed food products such as Mexican cuisine, fresh carved meats, Italian pasta stations, and daily chefs specials.